Morten appears in a short film called 'Hemland'
Swedish filmmaker Sara Broos has produced a short film about a Syrian refugee named Raghad Kanawahti, who she met at a refugee camp in Värmland. Raghad fled her homeland in Syria due to the war.
In the film Raghad talks about the importance of music as a source of hope and inspiration, and when asked if there was one song that has meant the most to her, she says 'Hunting High and Low'. "In one way or another it is for my family like a symbol," continues Raghad.
During the film, Morten visits Raghad in her home. Morten was surprised to hear that a-ha's music was popular in Syria during the 80s. "I had no idea there were people there who were listening to what we were doing, and that it mattered to them."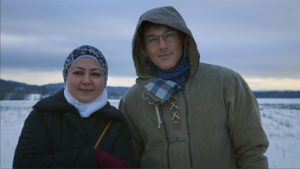 The film premiered in Stockholm on April 13, and aired on Swedish television on May 3. You can watch the film here.
Related Links:
Facebook Page – Hemland/ Homeland en film av Sara Broos
Nettavisen – Morten Harket stiller i film om syrisk flyktningfan
SVT – Med musik i flykt från kriget
Also related, a fan site interviewed Sara Broos and Raghad Kanawahti about this project. You can find the Q&A here.
Back to Main Articles