Morten has contributed a song on the upcoming 25th Anniversary box set which salutes Norwegian saxophone player Bendik Hofseth's album "IX". The track is called "The Boy From Port Manteau" and was recorded in collaboration with Håkon Kornstad and Peder Kjellsby.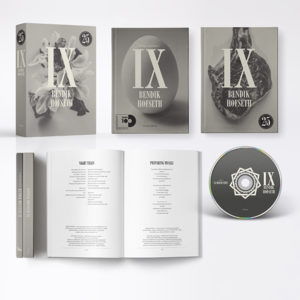 Box Set Track List
CD1: "IX" Remastered
CD2: "IX" Rarities (15 demo tracks, outtakes and alternative takes from the "IX" era)
CD3: "IX" Tribute:
Emilie Christensen, Harald Lassen & Andreas Lønmo Knudsrød – "Say No More"
Golden Grey feat. Nina Mortvedt & Gaute Solås – "Passacaglia"
Knut Reiersrud & Mighty Sam McClain – "Proceed"
Ketil Bjørnstad og Kristian Kristensen – "Janus In Love"
Silje Nergaard, Audun Erlien & Sidiki Camara – "Night Train"
Nils Petter Molvær, Martin Halla & Reidar Skår – "Preparing Myself"
Salvador Sanchez & Rolf-Erik Nystrøm – "Love Gasoline"
Morten Harket, Håkon Kornstad & Peder Kjellsby – "The Boy From Port Manteau"
Friko & Jarle Bernhoft – "A Litte Parade"
OdD & Freddy Holm – "Riverside"
Jacob Young, Mathias Eick og Ine Hoem – "End Is Beginning"
DVD: Q – The concert (Comissioned Work from Vossa Jazz 1991) + a portrait programme
BOOK: Terje Mosnes has written the story about Bendik Hofseth's "IX"
The album can be pre-ordered here. Listen to a sample on Soundcloud.